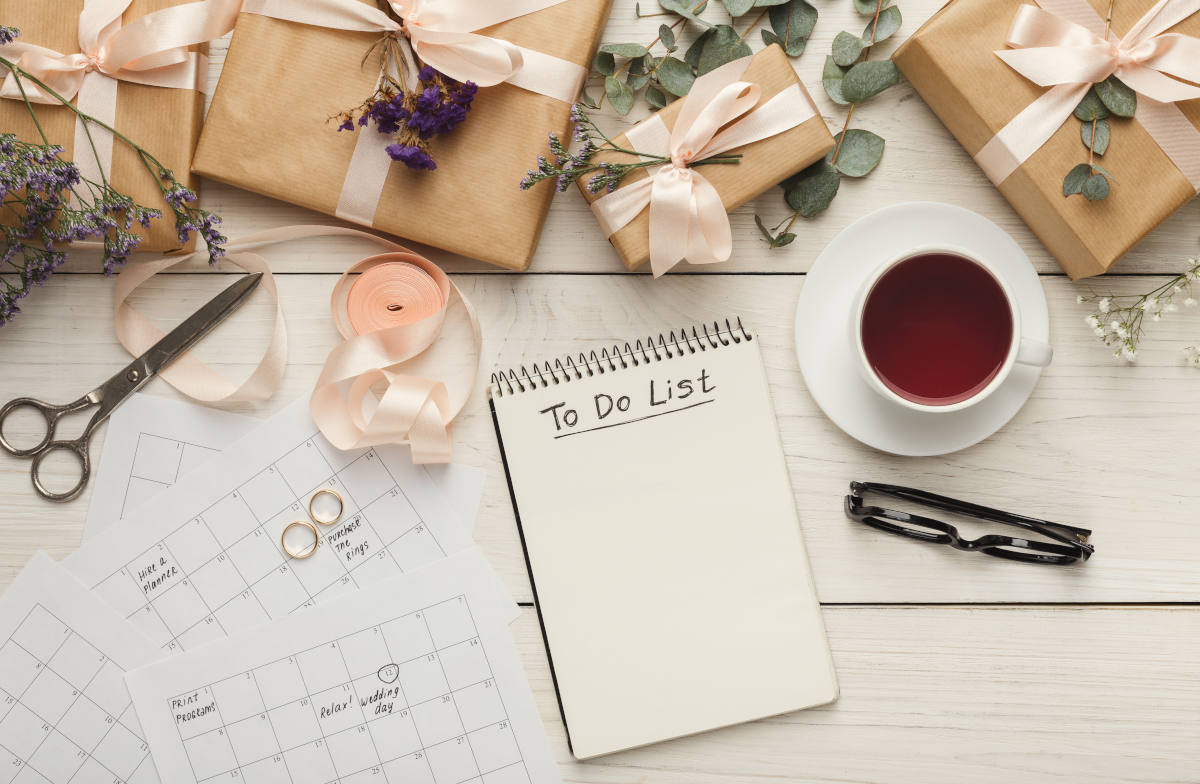 You've just got engaged and are ready to celebrate the next chapter in your life. So, pop that cork off the champagne bottle and start planning a celebration with friends and family – and the most significant person in your life!
Planning ahead for your big day is essential. Otherwise, you'll be making arrangements up until the wedding— turning your big day into a big headache.
Philip Brown, Director of Wedding Sales at The Century House, shares some of his wedding planner secrets from our boutique wedding venue to help you understand the process and avoid some common pitfalls that bride and grooms seem to make.
Whether you are planning a traditional wedding or an intimate wedding, these tips should help you get started.
#1: Stop. Breathe. Take It One Step at a Time
Plan for your planning! The biggest mistake you can make is not creating a plan in advance and have everything snowball last minute.
You should make a checklist for yourself and schedule out to-dos in logical order.
Be sure you are set on a date and venue before you start hiring vendors or choosing décor. And settle on a realistic budget before you start creating the guest list.
#2: Know the Wedding Blackout Dates
Picking a wedding date is usually the first task on the priority list. However, be mindful of blackout dates for things like personally significant days, holidays, or major local events.
Check with friends and family to make sure the wedding date doesn't interfere with other special occasions. And keep in mind the challenges that come with scheduling a wedding during a nationally recognized holiday.
Selecting a wedding date that falls on a holiday weekend may give you extra time to relax and recover from celebrating. But keep in mind that the pricing of hotel accommodations for travelling guests will be higher.
It's also important to note that choosing a wedding date that corresponds with a major local event might create additional hurdles for your guests, such as increased traffic and limited hotel availability.
The Century House offers venue and hotel accommodation wedding packages — ensuring you can reserve an ideal date and the necessary rooms for travelling guests ahead of time.
#3: Guests Always Come First
While you should put yourself first when planning all the details of your perfect dream wedding, the comfort and experience of your guests matters as well.
If you know you are going to have a large wedding, ensure the venue space can accommodate every guest properly.
Some of your guests will most likely travel at considerable expense to attend your wedding. Make sure you think about the accommodations and transportation options available to them.
#4: Leave Some Room in Your Budget
So, now you have a date set and an idea of your guest list and accommodation needs. Before you start contacting any vendors, revisit the scope of your overall budget.
You should break your budget down as such:
Venue and Catering: 40%
Photography and Videography: 10%
Wedding Attire: 10%
Entertainment: 10%
Décor: 10%
Flowers: 8%
Gifts: 2%
Invites: 2%
The remaining 8% can be used for wedding planner services and surprise expenses such as extra invites and additional last-minute décor.
#5: Consider Your Venue While Planning Your Décor
You should decide on the venue before you start making decisions on flowers and other décor. Consider the reception space when thinking about layouts, floral arrangements, and centerpieces.
At The Century House, our boutique wedding spaces make the perfect backdrop for any style, offering a choice between indoor and outdoor areas. We take immense pride in our event spaces and maintain our property to the point of perfection — eliminating the need for additional décor.
#6: Make a Meal Plan
Making a meal plan is more than just choosing lobster or steak — which The Century House Restaurant is well known for. There are other decisions to consider when designing the menu for your special day.
In addition to incorporating your favorite foods, contemplate the serving style you may want. You can choose from buffet or plated service — each comes with advantages and disadvantages.
You may also need to account for food allergies and dietary restrictions of guests. A great way to keep all guests satisfied is by offering alternatives.
Lastly, keep in mind you may also be required to feed vendors such as photographers, videographers, and entertainers. Their needs also must be incorporated into your target budget.
You can ask your caterer if they have a professional fee, as this is a reduced fee for vendors who won't be drinking or eat hors d'oeuvres.
#7: Make a Uniform Kids Policy
Making the decision to allow children at your wedding or having an "adults only" wedding might leave some guests with hurt feelings.
However, it's important to make a consistent, uniform kids policy that applies to every guest unless the children are part of the ceremony. Even if you know some children may be better behaved than others, try to avoid any conflict on your big day by enforcing the policy for everybody.
Another solution is hiring childcare services who can watch the kids at the reception, hotel, or family member's home during the ceremony.
#8: Avoid Large Breaks Between the Ceremony & Reception
No one likes waiting. If there will be a large gap of time between your ceremony and reception, plan some creative or fun activities to occupy guests while they wait.
A much-needed break might be good for you and your partner but can be awkward and taxing on your guests.
At The Century House, our on-site hotel offers a great opportunity for your guests to stay on property. Guests are more than welcome to enjoy our lounge areas while they wait for the reception to start.
#9: Don't Misplace Your Ring
Believe it or not, this is a more common mistake than you might think! Losing your engagement or wedding rings can send you into a panic.
Always keep a ring holder with you and consider taking the ring off when you shower, travel, do yardwork, or other similar activities. You could use a ring dish and keep it by the sink when washing your hands or doing dishes.
If you are still concerned, consider attaching your ring to a chain or keyring. When in doubt, store your ring in a safe place to avoid losing it.
#10: Don't Rule Out a Wedding Planner Altogether
You might think you can organize a wedding by yourself, but your happiest day should be focused on you and your partner. A wedding planner will help take care of all the details for you so you can be rest assured.
At The Century House, we act as a full-service wedding host and event space that can cater to all your needs in-house. Wedding planner services are included, and we help you from booking to planning to the first introductions.
If you are interested in scheduling a tour of our wedding venue, book a consultation today!